40 Saturday night. Fish really started biting good at midnight but my amigos were sleepy and wanted to go in. By the looks of the guppie screen at midnight it could have turned into a 100 fish night. Got to save some for seed I guess. lol
Broke one off that could have potentially been a lake record.....
Mental note: dont take the net out of the boat. EVER.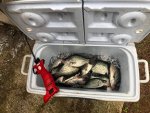 Good sized fish most of the night but here are a couple averages of size showing the bigger ones. There were a couple buried in the cooler that were much bigger than these ones.