Update for every 5 spots you purchase you get a sixth free
Happy New Years everyone.
I recently started a foundation (New Adventures Outdoors) that helps get youth involved in the outdoors who's parents aren't and help others get back into it. We have recently partnered up with the local boys and girls club to start a fishing club. We will be teaching the kids the basics of fishing and providing all the gear to the kids at no cost to the parents.
Last August we did our first hunt where we took a paraplegic on a doe antelope hunt. You can read the story
HERE
We are doing some fundraising for future projects and expenses. Instead of asking for donations we will be purchasing gear & hunts and raffling them off.
The first item we are raffling off is a Montana Youth Antelope hunt. It is an all inclusive hunt including the TAG! All the winner has to do is show up with their favorite rifle and hunting gear.
We will be doing the drawing on Facebook live. We are only selling 100 spots at $20 a spot. We have a Facebook group and the link is
HERE
. This is where the raffle will be posted. To purchase a spot you can message me directly or go to the Facebook group page and comment on the raffle post stating you want a spot(s).
With this hunt being done on the Crow Indian reservation, the Montana min age limit doesn't apply. If you have a question on if the child is to young, send me a PM and we can discuss.
Good luck and thank you to everyone that purchases a spot.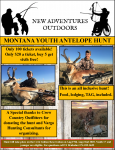 Last edited: