All,
As we try and pass the time between now and Christmas (the Feb 22 draw results) I wonder if anyone else has a knife affliction? I collect and have too many knives, but always go to a specific couple of knives for my hunts.
Here is a new to me knife left to me by a friend who started me elk hunting. It will be the knife I carry this year in the Thorofare when elk hunting in his honor.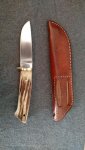 Whats on your belt or in your pocket?