Lots of time on my hands and got to thinking about all the various hunts I have done. I am 78 now and have hunted over 70 years in a lot of different places, with a lot of different people. My all time favorite hunt was an elk hunt with my Dad here in Colorado.
October 2008; San Juan Mts/NF.
My Dad had kept mentioning he want to go elk hunting again before he "got to damn old to do it", Dad was 90! I started making plans early in the year, especially since where I wanted to hunt had only 25 available tags for each season. I spent 8 years volunteering at Lone Mesa State Park near my home. It is a new state park in the San Juan NF, not yet open to the public. It does have a limited, draw only hunting program. I put Dad and I in for the draw. There were some cow tags available and I put him in for the Unit draw also. Dad drew both his cow tag and park access tag, I drew blanks.
A couple of weeks before the season, I went to California and picked up Dad and his gear and brought him to my place in Dolores. We had plenty of time to get him acclimated and to go to the range for a few shooting sessions. We went to the range and I soon found out it was going to be a problem shooting his old, trusty sporterized 03 Springfield. Too much recoil. I convinced him to shoot my .300 Wby with a muzzle brake. All the problems went away and he was shooting 2" groups at 100 yds.
I live about 40 miles from Lone Mesa, so we stayed at home and drove everyday. I knew exactly where I wanted to be and it was only about 1/2 mile from the parking area. Opening morning was a blank. Came back to the truck for lunch and a nap. Later in the afternoon, we left and were in the spot by 3:30. There is an Aspen patch about 400 yds away and about 45 mins before sunset, the elk started moving out and feeding. They were feeding towards us and Dad got really excited and wanted to shoot when they were about 200 yds away. I whispered "No ....don't get in a hurry, we have plenty of time". Finally at about 100yds, I got him setup with shooting sticks and on a nice, fat cow. I told him "Just squeeze the trigger easy". There was a big bang and the cow dropped like a rock. Dad was jumping up and yelling like it was his first elk. We got to the cow and I started gutting her. It got dark, so Dad held the flashlite for me. I saw a light coming and it was the head Ranger. He is my neighbor and he knew when he heard the shot that I would need help.
Got the cow back to the truck and I called the processor, who said they would wait for me to get there. They were about an hour away. Long story, but a great outcome. It was my Dads last elk hunt. (I hunted deer and antelope with him in Wyoming for several years after this). The only bad thing was I didn't get any pictures as I was too busy with his elk and just forgot. Dad lived for another 6 years, passing at 96.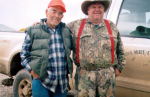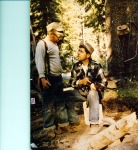 Last edited: