Eastmans' Staff / Moderator
Staff member
Every one of us has a favorite rifle or two. For me it has very little to do with the caliber but more so the memories that go with it.
For instance...here is my Savage Model 111 chambered in .300 Win. Mag sitting next to a backcountry bull that tops my list because of the crazy story associated with it. This rifle killed my best bull, but it also killed a bull that about tried to kill Brandon and I on the packout. Brandon and I decided we were tough and that we could easily get the bull out in one trip if we just toughed it out...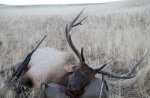 This bull got his revenge that year and not long after this hunt my research into stock animals went full bore. The rifle though is still one of my favorites and it is proudly hanging out in my safe waiting for the next story of misery!
This thumbnail for this video is actually of Brandon with half of the meat all boned out. I will let him tell the story of how this trip felt for him, but let's just say that friendships formed in adversity tend to last a while...