I'm sure most of you ate too much and/or had a great time with family and friends... some maybe not so much.
What we really want to know is what awesome gifts you received!!
I'll start. I got a
Sirui ET-1204 Travel Carbon Fiber Tripod with flip-leg locks. I went with the twist legs for 1 season and am going back to the flip locks (personal preference). This tripod is 8oz less than my last tripod so it freed me up to upgrade to better, BIGGER glass.
So....I got this with the Wide Angle Lens.
I can't wait to try it out. Unfortunately I had to deal with some unseemly incidents around the home the past few days, but it'll be on the tripod this weekend and there's "nooooooo doubt about it"! Yeah I'm kinda excited!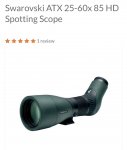 By switching to my preferred tripod style, I lost 8oz. By moving from my Vortex Razer 65, to the Swaro 85 I gained 10oz. NET +2oz of superior glass and preferred tripod! I was looking at moving up to the Razor 85, but for the same weight and the deal I got, I went with the Swaro. Whoop! Whoop! Did I say I was excited?!?!
Last edited: