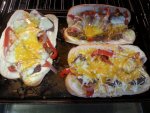 Antelope steak sandwiches.
Fry the strips of antelope, bell peppers, and red onions.
I spread a small layer of cream cheese on the hoagie, then pile on the meat and veggies, then cheese of choice, pepper jack and cheddar are my favorite. Then I put them in the oven for a couple minutes on hi broil to melt in the cheese and warm up the bun.