I've been toying with the idea of building or converting an enclosed trailer into a hunting rig for some time. Finally bit the bullet and started the project today. I'll post updates as the project continues. I'm really looking forward to this build!
Rewinding just a bit, I was up in the air about continuing to tent camp, buy a camper, or do this build. With my son approaching the age where he will begin traveling with me more, I wanted a safe and comfortable shelter for him. Also, I wanted something I could use outside of hunting season. There are several other reasons that I'll get into as we go. I settled on building out a custom trailer instead of buying a camper for a few reasons:
1- Cargo trailers are typically better built than a camper.
2- I can customize it however I want.
3- Even though I don't own an ATV, in the future I want to be able to haul one (and my ebikes ;-))
4- The final value will be much greater with a custom build.
Anyway, here is the trailer I chose- an EWI 6x12 V nose. This one happened to have a camper style door already on it so that's one less task I'll have to hammer out.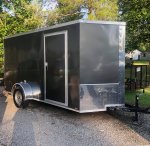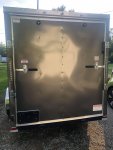 Upgrades and customizations I plan on doing are (not in order):
1- Sealing and insulating the floor
2- insulating walls
3- 200 watt solar electric system with shore power hookup
4- Running water (cold only- I'll explain why later)
5- Roof fan/vent (Maybe add an AC next summer..I want to see how the fan alone does)
6- interior/exterior LED lights
7- Bathroom (50/50 on this one. I have the space but I can't decide if its worth the trouble)
8- Front sink, cabinets, power
9- Wall cabinet
10- Floor Vent and tie downs
11- Etrack Hammock for my kid (this is gonna be cool)
12- Windows
I'm sure there will be plenty of other odds and ends I decide on as I go. Please feel free to offer suggestions and give feedback. My goal is to be done by October when my western hunts start!
.....here goes nuthin'!
Last edited: