I have a post in the predator thread about my recent mountain lion hunt, and had some discussion on eating one. I have no prior experience with the culinary possibilities of mt. lion other than the anecdotal "tastes like chicken". Well let me tell you folks right here, that "it don't".
I followed a recipe that was in the recent American Hunter (NRA) magazine for Black Bear Instant Pot Roast. I followed the recipe exactly, except for the lion instead of bear, and using chicken broth instead of beef broth. After searing the meat, it only takes 45 minutes.
I cut some meat off a front shoulder to save for fried nuggets at a later date, and the sawed it in half in order to fit in the pot. I left the bone in, but that isn't really necessary. lion shoulder 2tsp black pepper 2 large carrots, chopped
2 Tbsp vegetable oil 1/2 cup red wine 2 celery ribs, chopped
2 Tbsp ground coriander 1/2 cup broth 2 bay leaves
3 Tbsp dried rosemary garlic, minced 1/4 cup cornstarch
2 tsp salt 1 lg. onion, diced 1/2 cup water
Season the roast, sear it, deglaze the pot with the wine and broth, using a wooden spoon. Add the veggies, and place the roast on top. Set the Insta Pot to "stew/meat", and up the time to 35 minutes at high pressure. After it's done, remove the solids, and use the cornstarch & water to thicken the gravy.
The verdict: Fabulous, I would say that it is 95% like pork roast, except that it has a bit of a something else flavor (in a good way). After putting it on a plate and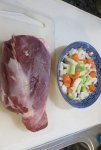 covering it and the potatoes with the gravy, my wife and I agreed that you couldn't tell it from a good pork roast.