Hey guys,
I have been watching this site for a while and decided I would stop lurking and introduce myself. I recognize a few from other sites but there looks to be a great community developing here.
I'll start out with a little about me. I grew up in North Dakota on a farm near Devils Lake, ND. My friend Shayne introduced me to hunting when I was in high school since no one from my family really hunted. We have been going on several hunts since. I graduated from North Dakota State University in May of 2012 and moved down to Omaha for a job. I brought my wife (fiancé at the time) with me and currently work for Cargill in Blair, NE.
I have mainly hunted whitetails and waterfowl as well as coyotes and turkeys. The photo below is my best bow kill yet from my junior year in college. Just recently we have begun making trips out west. Last fall we went elk hunting for the first time in Montana (video below) as well as antelope hunting for the second time in WY. This spring we will be headed to the Cabinet Mountains in Montana for a week to try find a black bear (advice welcome as we have no idea what we are doing). We plan to hunt elk in the same area this fall along with the regular deer hunting. We will make our fist trip out to western Nebraska for mule deer too.
Look forward to contributing! Feel free to ask me any questions.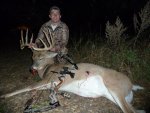 [video=youtube;hImxCkwGlmk]http://www.youtube.com/watch?v=hImxCkwGlmk[/video]