I was at a few places over the weekend and there was a fair amount of ammo. (As usual, I didn't buy anything because I am cheap and stubborn..)
This was one of the (and I quote) "Hot selling items" What a steal....lol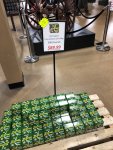 I asked the guy at the counter if that price was correct and he said "Well, ya, and sir I am here to tell you thats the cheapest price in town!"
I then quickly asked him "Does every purchase of 1 box of shells came with a free gatlin gun?" (In the picture behind the .22 shells)
He said " Well, no...."
Then I literally laughed in his face and walked out of the store.
Crooks!