Once again. This "old school" powder is proving its worth on my reloading shelf.
Put a new Leupold scope on his Steyr rifle for him.
Good enough for me at 100 yards. Certainly good enough for my wife's uncle who never shoots over 200 yards anyhow.
Group on left was out of a Steyr 7MM Group on right was out of a Browning A-bolt.
139 Grain HNDY SPBT INTERLOCKS
56 grains - Max Load
Lesser grains would not group at all...Probably because of the case volumetrics with IMR 4064.
Tighter groups would be nice but I dotn have the time to play with seating depths and things like that at this time. But I do feel like I have something that will kill a deer.
On another note: What a hunk of crap that Steyr is....
That browning, like all Browning's is a sweetie to shoot. It has a ported barrel and there is nearly 0 recoil with it.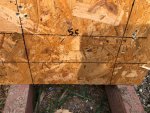 Last edited: