First off, every time I attack a new species or new area, I make it a point to contact as many "experienced" folks as possible. Eastmans is a great venue to make these digital connections and I deeply appreciate every returned PM as I got serious about cashing in a bunch of PPs late last winter.
To the hunt...
We decided to forego the opener and go 3-4 weeks into the season. Coincided with pre-crazy season for a UPS employee, avoided my September archery elk hunt in CO, and landed squarely on fall break for Ohio State University - where I am on faculty conducting research/teaching in wildlife sciences. The way I saw it, I was just doing critter research, escape behavior or something like that.
We hunted out of Casper and made the daily drive to our unit. Not ideal but I tolerated it for the sake of a few in our hunting party not amped up for less than 1st world living conditions. The hunting party consisted of my college roommate, my dad, a great friend who is about 10 years older than myself, and my dad's hunting buddy. 5 of us in all, each holding a buck antelope tag.
My dad killed a doe antelope back in the 1970s on a hunting trip, my college buddy and I hunted antelope in NE WY back in 2007 - both killing decent bucks, and the other two were Western hunting virgins. A rock-paper-scissors tournament on the first morning put my dad first up to bat. I threatened to lock up the ammunition for the first 2 days though, as we had a full 7 days of hunting time available to us and it was quickly apparent that antelope weren't scarce within the landscape. Quite the opposite - absurdly abundant.
With 2 hours daylight left on Day 1, I swung the spotter onto a distant buck just in time to see stunning mass and a lengthy prong. A quick confirmation from my buddy before the buck disappeared behind a rise, and we were planning our first stalk of the trip. From a mile out, we closed to within 350 yards - working around a few other herds of pronghorn as well as 2 nosy coyotes. We found a decently flat rock to prop dad's rifle across the spotting scope and one of my unlaced boots. Nerves, distance, and night closing in made for sketchy shooting conditions, but thankfully dad's first warning shot scared the buck 40 yards closer. His second volley connected and the buck never twitched. Rarely does ground "growage" occur, but it did in this case. We knew he was a good buck, but we hadn't had a long time to analyze him in the spotter. We caped and quick-quartered by headlamp and arrived back in Casper just short of midnight. A quick stretch of the tape and we knew the bar had been set quite high for the rest of us - 79" even!! High prong on the buck's left side squeezed in a 3rd mass measurement below and he wound up taping just over 14" on both sides, large prong was 5.5", and 5 circumferences went over 6.25".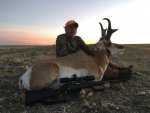 Day 2 and I was up but we didn't find anything worth tagging in a spot that was feasible for a stalk. The most excitement for Day 2 was finding a buck we believe would gross B&C. The only trouble was that he was half-mile in on private land. The hope was because "his" private section was surrounded by BLM in all directions. We would check back for him every day of the hunt but to no avail.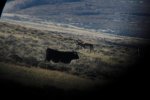 On Day 3, we were approaching late afternoon with several more mid-70s located but again nothing in a stalkable location. I waived my rights to a nice buck so that we could stalk a buck that tripped one of the other guys' trigger. My buddy and I accompanied him to within 200 yards but were interrupted by a smaller group of antelope tucked down in an unseen crevice. That buck didn't trip his trigger but it did mine. Ended up having to "jump shoot" him and I made a single shot kill as he was kicking into top gear right at the 100 yard mark.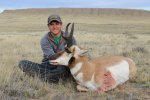 He taped out at 73" and change with heavy heavy mass above and below his prong. Sort of a bummer that his one prong was busted off, but I was completely satisfied with my hasty decision to tag out.