Been a real roller coaster this season for me.
I drew a random moose tag which I was excited about and did some scouting for, seeing some OK bulls but nothing big.
Went to AK and beat on the fish pretty good with a few friends, caught 500 or so pounds of filets between 6 of us.
Got back and tested positive for COVID, which was no big deal but ended up getting a blood clot in my leg and lung from COVID. So, I got the paper work to reserve my moose tag for 2023 as I wasn't sure if I'd be able to hunt.
After a night in the hospital and talking with some very smart Doctors they didn't seem to think I would have to restrict my activity level for work or hunting. Decided to keep my tag and just hunt it.
Got over to my area a few days before the season, saw lots of elk, some moose both bulls and cows but nothing big. My Dad and Brother were coming down about noon on opening day, so decided to hunt a piece of state ground that just looked right to me on opening day. Right at daylight I spotted a bull about a mile away moving away from me and on private. With nothing to lose I made a cow call and he stopped, turned and started walking directly toward me. He covered the mile at a steady walk and finally turned quartering toward me enough at 180 yards to offer a shot. Moose season lasted about 30 minutes and I was pretty happy with my 3rd Shiras bull and second from Wyoming since 2015. 42 inches wide and too good to pass, even on opening day.
Had it quartered and in game bags by the time my Brother and Dad met me and we had it to the truck about an hour before dark.
Next up was pronghorn and I hunted 2 days near my house and looked over quite a few bucks. With not much time to spend, shot this buck on the last evening I was going to hunt pronghorn:
Took last week off work and hunted general elk with 3 of my friends. Hot weather had elk movement pretty limited to mostly an hour on each end of they day. Managed to find a bunch on a North facing slope with just enough openings to offer some shooting. I killed a 4 point bull and about 5 minutes later a friend killed a cow, his first ever elk:
My friends first elk: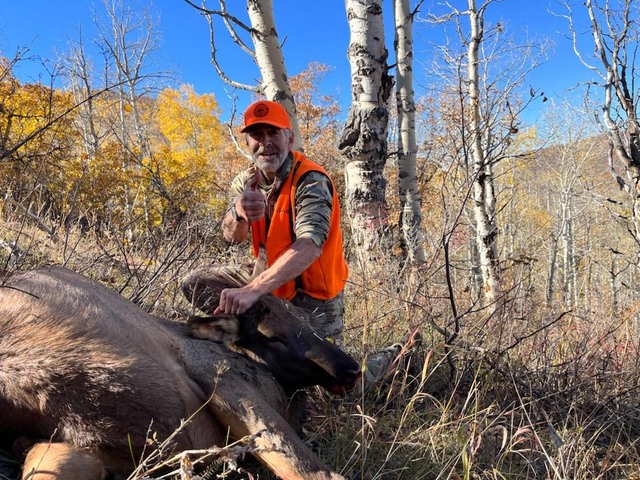 All things considered the season has shaped up pretty well and still have a lot of hunting left to do for myself, friends, and family.