Oct 12, 2014
2,953
733
50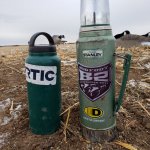 RTIC kept hot coffee 2.5 hours longer. Wasnt even a close comparison.
1) 25 degree out side air temp
2) warmed up with boiling water for 5 minutes each.
3) filled to the top. No air left inside.
Mine is the Stanley. Son has the RTIC. He was opening his to heavy steam rising out of it. Mine had zero.
FYI