Only got to get out 4 times this year, but had some really great hunts. The entire state is still flooded pretty bad along the Missouri River corridor, and a friend with ground in the bottoms called and said he had a few teal. We went and scouted it the night before season, and yeah.. it had a 'few'. We watched huge wads of teal work the bottom, and dialed in a plan that would allow us be right on the birds and be able to hide 12 guys. Opening day was an absolute barn burner, and by 9am, we had shot a 12 man limit of 72. For sure the best teal hunt I've ever been on, and one of the best waterfowl hunts as well.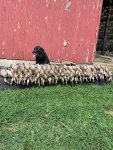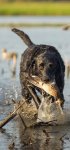 Old black dawg got worked on this hunt, there was supposed to be 2 other dogs, she ended up being the only one. Had some amazing retrieves, and picked up birds that we would not have found otherwise. All that shooting, and we didn't lose a single bird, I was pretty proud of her.
The next weekend we headed out for our annual weekend to Central Kansas. Conditions were pretty bad, with high water all summer, and little food in the marsh, but we found a very sneaky spot in the back of a marsh and had a great shoot on the opener, shooting our 24 in about 30 minutes. Sunday took a bit longer, but we shot our ducks by 9, and headed back. I always enjoy my trip out to Kansas, it's such a unique waterfowling experience.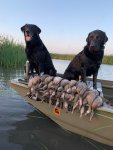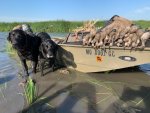 I finished the season up at a small lease we have, there's usually not many birds, but everything seems to work right.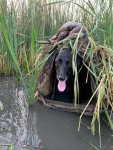 With all our water, and the National Refuges in the state basically barren wastelands, it's hard to tell what duck season will bring this year. But, if it's as good as teal season was, I won't complain.