Sunday My son took this buck. While in the stand he passed on this same buck. He is wanting a few more points. As the day went on a couple spikes were passed as well.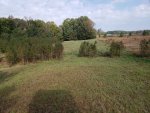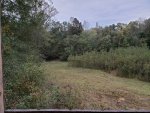 Above are views from the stand.
Around 10:30 I told him we needed to get out of the stand and move to the woods. I did not feel a good buck would be out in the open mid day. We sat on the ground down by the river. We were sat up no longer than 30 minutes when a squirrel went nuts barking. I saw the buck walking down the trail by the river. I told my son it was the buck he chose not to shoot earlier. He said I want to shoot it. I told him your call. He is shooting a in line Knight that has the twist back to fire. Snap he did not twist back far enough. He pulled it back again and twisted it all the way back and boom. I thought he missed it as the buck tore out at full speed. I told him I think he missed it. He said no way I hit it. When we got to the area There was blood, but I thought it might have liver or front of stomach sign. I told him this wait a while to track. We waited about 45 minutes before starting(not long enough). We jumped the deer which was bedded about 80 yards fro the shot. I told him lets back out and go get some lunch. We waited about 3 hours and picked up the rail. I lost the blood on a trail by the river. I noticed I started busting spider webs. So I knew the buck did not go that way. I then started walking the steep river bank looking in the river. I found blood going off the bank. This is what I saw.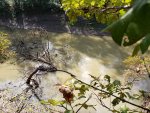 The buck is in the upper right part of the log jam.
So back to the house to get boat and get in swimming gear.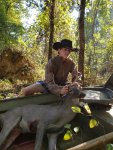 He had shot it low. The buck had a eye guard on the back side of the spike. I bet it is a buck he will never forget. Side note this river is full of water moccasins.