My son is 10 years old, and has to wait till he's 12 to be able to big game hunt in Wyoming. He's rabbit and turkey hunted with success, but most importantly he is very safe with a firearm. Since we live next to the Nebraska border, and tags are crazy cheap there for a youth. I thought maybe it would be a good bridge until he can hunt in our home state. I have a few customers that own ranches that encompass land in both states. So off we went in July to see if we could get access, and we did, but not for rifle season, we could only hunt the December muzzle loader.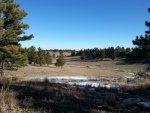 December 1st came and we hiked and glassed, had one close call with a doe and buck whitetail, but that was it. I didn't figure he'd shoot a deer the first day, but 12 sections of the picture above and only 2 people rifle hunted it, I thought we'd see a lot of deer. Second Saturday rolls around, daylight to dark again, not a single deer, not a single track in 2 day old snow. 3rd day comes and we change up the plan, we glassed the edges of the broken rock canyons below the trees. We found a big 2 point mule deer, I'd guess a 2 1/2 years old but wide, heavy, and tall. So the sneak is on, we get to 18 yards, gun set up, just waiting for him to stand up. We'll he does, and walks straight away, doesn't see us, doesn't run, just walks. I bleat with my mouth, he doesn't even turn his head. At 100 yards he stops and starts licking his side, my boy gets on him while he's quartering away, but just isn't comfortable with the shot. That afternoon we move up to a spot to just sit and glass for the night where 5 canyons all come together in hopes that something comes to us.
All day hunts can be pretty tough. That night we seen 5 whitetails, and all of them drop through a saddle in a canyon about 300 yards south of us. At this time I realize were not seeing any mule deer for the most part, the whole spot and stalk likely isn't going to work in our favor with whitetails. Last Friday the 21st rolls around, and back out we go for the afternoon. This time I take 2 fold up lawn chairs, and we bury ourselves in a patch of little pines about 75 yards from the saddle the whitetails crossed the last week. Just before 3 my boy says in the loudest whisper ever, there's a deer! How he got where he was without us seeing him sooner I don't know. Right smack in front of us at 70 yards there he stands. My boy gets on him, but he was a bit right and has a branch in front of his chest, he says I need to wait for him to move so the branch is out of the way, and he did just that. Up the hill the buck goes 5 yards, turn completely broadside, and boom double lung shot!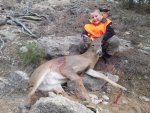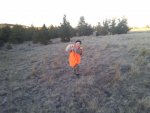 It was only 400 yards to the truck, but my boy says, dad I'll pack this all out to the truck, you don't have to carry any of it. He had the straps, and loins in his pack, the head, and hide in the bag over his shoulder. I think he was happy I didn't take him up on his offer, lol!
Last edited: