Mar 28, 2016
6,959
8,182
70
I figured that I had better start getting prepped for my upcoming trip to South Africa in June of 2022.
So knowing that my rifle that I am going to take had not been shot since I was there in 2015 and it had gone through 4 different airports since I had shot it I thought that I had better check the zero on the scope. I also had to run 60 reloaded rounds through it to make sure that they were going to chamber and that there won't be any surprises when I went to chamber one of the rounds.
Well, the RMEF had sent me a nice target so I mounted it up onto a board and headed south of town to check things out. I hadn't been on this short road since the monsoons had closed Glenwood Canyon and had dumped a lot of rain on the area that I shoot at so I was a little bit surprised when I saw that there were some washouts and deeper ravines that needed to be crossed to get to my shooting area. But my trusty F250 handled them without a hiccup and I reached my shooting area. I set up my portable bench and grabbed some rods to hold the target. I hiked over to the 200 yard area and set the target up and then back to my bench. I set up my spotting scope since I didn't want to hike back and forth to see where the bullets were hitting and I was ready to go.
I loaded up the first round and hunkered down and got the target in my sights. I pulled the trigger and my old .340 Weatherby roared to life. I looked through the scope and it looked like it was a good hit. Well I loaded up another round, same results but it looked a little bit higher than the first. I got up and took a look through the spotter and was amazed that they were real close to where they should be at. I loaded up a third round and pulled the trigger, then a fifth, sixth, and a seventh. Well, they all looked good except for one, the seventh one. My shoulder was feeling the recoil now and that seventh was a called flier but it didn't miss by much.
I then got my 60 rounds that I planned on taking with me. I'd load three into the magazine at a time and chambered and ejected each round. Towards the end I found some were not fitting into the magazine like they should and since I had loaded all of them at the same time I wondered what was going on. I decided that I would figure it out when I got home.
Now was time to set up another target for my 2 muzzle loaders, but that is another story.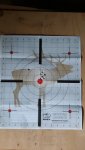 When I got home I took a look at the rounds that wouldn't fit into the magazine and measured them for over all length. A number of there were just over what they should be. I took a look at my seating die and noticed that the bullet seating stem was loose and had backed out of the die just enough to cause the problem. So I adjusted it to where it was suppose to be and ran all 60 round through it to get them all uniform. It was only a couple of milli-meters so I'm not going to worry about it changing the point of impact.
So now I am getting closer. Last week I purchased my airfare. I'll fly from Denver to Dallas on American Airlines and then hop on Qatar Airlines for the long trip to Doha Qatar, then to Johannesburg South Africa, then onto a South African airline to Port Elizabeth. The return flights will be the same airlines but the other direction.
I'll need to get some more shooting in but that will wait until next April or May. My hunt starts on June 2 so I have plenty of time
Last edited: