Oct 12, 2014
3,551
2,030
53
I had some time between hunts so I wanted to see what our guns pattern looked like with goose loads. The target paper was 22" wide by 28 inch high.
Remington 11-87 / modified choke / Rem HV steel 1 1/4 , 3 inch, BB
Center mass was 4 inches low and 8 inches right
67 of 90 BB on paper.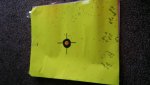 Stoeger 3500 / modified choke / same shell
Center mass was 5 inches high and 2 inches left
61 of 90 BB on paper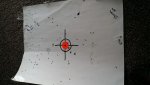 Seems like the Stoeger patterned fine.
The Remington though.....I was disappointed in the right component.
Shots were no wind on a bench.
What's everyone's thoughts? Are these performing as specs?
Thanks