Apr 25, 2016
1,334
511
50
Wanted to reach out to the brain trust to hear how/if everyone measures a jam length COAL for a specific bullet and rifle when they start load development?
I've used 2 methods over the past year and gotten different results-which messes with my mojo. Both methods have been around for a long time.
Lately, I've used this method, which has been in the Nosler manuals nearly forever:
#1
Last year, I used a method using scotch tape and cleaning rods:
#2
Using method #2 last Sept, I consistently got 3.330" for jam length. This happens to be the SAAMI max COAL for .280 Rem, which is the caliber I'm working with. This seems almost too coincidental.
Using method #1, I get 3.250", again, very consistently.
Here a couple pics of a bullet that I used yesterday to make the 3.250" measurement, all smudged up, showing the ring where the bullet made contact: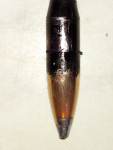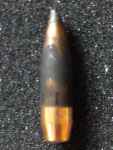 What say you? Which is the correct jam length measurement?