Administrator
Staff member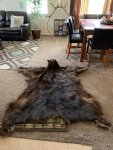 I got my bear back from the taxidermist last week. Set him up beside my Nv female bear and there is such a difference between the two.
They both have been huge achievements for me with the Nv bear being my first bear hunting experience with hounds and my first ever bear. The Ca bear being my first DIY no hounds bear hunt and being able to take a huge bear that would go B&C I am so grateful to have these bears on my wall!
I learned so much about where to locate bears and even though he was close to my property I know I would have been successful with the help I received from you members and friend.
Thank you everyone for the info and I'm looking forward to another Ca bear hunt this year!