In 2013, my dad (Pop) got his only bull elk here in NE NV. The shot was 220 yards and he made the perfect shot through both lungs with his .270 using 130gr Remington Premier Scirocco Bonded bullets. The bull didn't run 15 yards. The bullet rested right behind the opposite shoulder in the hide. While taking care of the animal, I put the retrieved bullet on my Kuiu pack for safe keeping. At the time, I thought I set it inside in one of the pockets. Well I got home and damn if it was gone. Only option was that I didn't set it inside and it rolled off while loading the pack with meat.
I had been telling my hunting buddies many many times that I needed to go back for it cause it was one of the prettiest mushrooms I have ever seen. Well 2 Saturday's ago, my neighbor calls me up and says let's go see if we can find it. I told him I know exactly where it should be, plus having a GPS to get back to the kill site was a plus. When we get to the kill site I immediately recognized everything. I could envision every detail like it happened yesterday. I pointed out where the elk laid and where I set my pack. I said it has to be within this 3' circle. My neighbor no more turned on the metal detector when it started ringing true. I said no buddy, you need to move it up when you initially turn it on. He tells me no, I have the bullet!! Wait........what?! You found it in less than 10 seconds after walking the mile back into here?!!! Two and a half years after this bullet was shot, through tons of rain and plenty of snow, it still lay on the top soil. Didn't even soak into the earth an inch.
Today I had the opportunity to see how much it weighs.....117.9 grains. Unless my math is messed up, that is 90.69% weight retention. Sh_tty thing is I think Remington has discontinued making these bullets. They shoot perfectly as a factory load out of that gun, 0.625" group at 100 yards. I have 63 rounds left, but I'm not sure if Pop plans on hunting anymore anyways.
Here are a couple pictures of said bullet: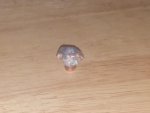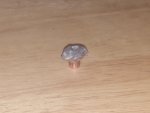 In case you wanted to see the little bull: