This year was my first year solo hunting elk as a resident of Colorado. I apologize in advance for the long post, but after the help I received on this forum I felt obligated to share my story around the fire with you all. Leading up to hunting season, I had a serious case of elk fever. I spent hours poring over maps and analyzing harvest statistics. My anticipation built more and more with every promising area I scouted, the more I learned the more I wanted to know. Opening day could not come soon enough! I had two tags this year, a cow tag in 1st rifle, and a bull tag in the same unit in 2nd. After months of preparation, the beginning of the season was nearly upon me. I checked and rechecked my gear, went back over all my plans and practiced (much to my girlfriend's displeasure) calling during our daily commute. And then then finally it was time. I knew I wouldn't be able to sleep, so I drove through the night, blasting country music and dreaming of elk steaks on the grill. I had one day to scout the unit and test out the validity of my e-scouting methods. Setting off into the dark, predawn woods alone was electrifying, my senses buzzed with anticipation. It had snowed the day before, and the soft snow muffled my steps through so that the only sound was the wind in the treetops. The temperature was hovering around 0* and it seemed like the whole forest was frozen except for me. After a grueling hike to high ground, I witnessed the most glorious sunrise of my life spread out over the valley below like a brilliant golden blanket.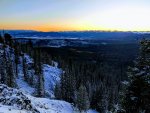 I settled in for a breakfast in the field, waiting for enough light to begin glassing. Just as I settled in with my coffee, I saw movement across the valley. I couldn't believe my eyes! Only 20 minutes into the morning of my first solo trip, and there were 7 elk moving across the north face of steep slope. The last elk in the group was a really nice 5x5 bull, and even though I didn't have a bull tag I just couldn't take my eyes off of him. They bedded down in dark timber out of sight, and I began to form my plan for the next morning. I spent the rest of the day making a large loop on the ridge. I came across tons of sign and knew I had found a special place. Towards the end of the day, on my way back to the truck I jumped a calf elk out of it's bed, but what really caught my eye was behind it. In grove of aspen trees surrounded by beetle-kill, was a corridor with every small tree rubbed into oblivion. The wounds from the bulls tines extended well above where I could reach with an outstretched arm. I was so stoked for opening morning. As many of you can relate, I did not sleep well at all that night. After finally giving up on sleep, I stepped off into the frigid darkness, feeling very confident about the day's prospects. And then began a day of hard lessons. As the sun rose on opening morning I was sitting beneath the low hanging boughs of a fir tree, with a great field of view of the small clearings in the aspens surrounded by the beetle-kill and darker timber. I wasn't able to glass anything up all morning, and around 10am I began the painstaking process of still-hunting the dark timber. The snow was still just barely soft, so I was able to stalk relatively silently. A flash of movement caught my eye, and I was heralded by the sight of elk butts disappearing through the trees and over the ridge, only 150 yards away. I had no idea they had been there, and the wind must have changed direction just enough to bust me. After a day of many miles and lots of glassing, I began hunting back in the direction of the truck, on a path that would take me right through that grove of aspens I had seen the cow the previous day. The sun had already set, and the last flickers of twilight were fading through the trees as I approached, but I was alone in the grove with no elk in sight. Disappointed and exhausted, I began to trudge back to the truck resigned to a distinct lack of elk steaks for dinner. Lost in my thoughts, I was not trying to be quiet. I was snapped from my reverie by movement directly in front of me. A giant bull stood outlined against the quickly darkening sky only 25 yards in front of me. He was huge, the largest elk I had ever seen (probably because I had never been this close to a bull elk). My breath caught in my chest while I stood frozen. He moved slightly and while his vision was blocked by a particularly thick aspen, I knelt down, looking for his cows. I didn't have time to be nervous as I scanned the small clearing, and finally after what seemed like ages I spotted the cows, another 40 yards behind him at the edge of the clearing. I searched frantically for a shot but I didn't have a clear lane. My attention shifted back to the bull as he began to act agitated. He knew something was up. My crosshairs rested on him for a moment and I counted his broad tines. 6x7 with long brow tines and a whale tail for the 7th point. Absolutely magnificent. And then the wind shifted, and they were gone in an instant. They moved off briskly but not in a full out run and travelled straight up through the corridor I mentioned before. Those had been his rubs, I was sure of it now.
(The meadow they were in, taken the following day)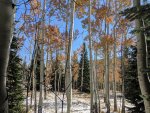 Night had almost completely fallen by now and I hiked back to the truck on shaking legs. I was at a loss for what to do next. I thought perhaps they would bed down in the dark timber on the north side of the hill they headed for, but I didn't have the experience to be sure. I decided to head into town for a beer and some enchiladas. With a clearer head, I decided to stalk the dark timber about an hour after sunrise. Another nearly sleepless night, filled with restless dreams of giant elk was followed by another frigid morning. The first thing I noticed as I stepped off was that the snow was now quite crunchy, and still hunting would be very hard that day. I contemplated scrapping my plan and setting up over a likely avenue from where I thought they were to an adjacent draw, but finally decided against it. The wind was perfect, and held for me the whole morning. About two hours into hunting, I was approaching the area on the north slope that was a directly over the ridge from where I had last seen the elk the previous evening. My heart was pounding as I slowly crept through the trees, desperately trying to keep my footsteps quiet. Then I heard that dreaded sound, the sort of wheezy snort/bark from a startled elk. About 50 yards up the slope, through the evergreen branches were elk, running away from me. Again. They had been right where I thought they would be, and I still blew it. I was thoroughly discouraged, but I also reassured. I wasn't totally lost in all this, I had found elk on opening day, found them again the next morning, maybe I could still make it happen! I tracked them through the snow for a few hours, but they were clearly headed towards the edge of the public land I was on so I turned back towards camp to regroup. Along the way, I glassed up several very nice muley bucks and took notes for next season. I sat down for lunch and was filled with awe for how beautiful this country is, and how special this time of year is for us all.
(my lunch spot)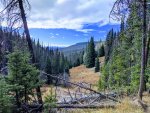 I didn't see any elk the rest of the day, and I was beginning to get a bit crazy, seeing elk in every stump, or every pile of brush. I came across tons of sign, and felt like there should be an elk somewhere close by but just couldn't find one. I only had the weekend for my cow tag (my priority was my bull tag, I couldn't take work off for both), so as the sun set on Sunday so too did it set on my cow tag. I had high hopes for this area though, and resolved to return for 2nd rifle armed with more knowledge and better plan. Opening day of second rifle was uneventful, and I decided to move to a different area in the unit that afternoon. I drove down the mountain as snow began to fall in earnest. As I approached a sharp turn, a vehicle traveling in the opposite direction lost control, and ended my hunting season early. The only thing killed this fall for me was my truck, but I learned a ton of valuable lessons, and I cannot wait to hit the woods again next fall. The irony of it all, is that I saw more animals on the ride down to town in the tow truck than I had all day. We saw three moose, a big mule deer buck and off in the distance, a small group of cows on private land. I suppose this year my elk steaks will have to come from the store. I want to thank you all for the advice the members on this forum have given me, I appreciate it and look forward to picking your brains in the future. Best of luck to the rest of you this fall!
Last edited: