That time of the year again when plans are finalized and wondering who will be in the high country early seasons to chase Muleys this year?
My wife will draw a muzzy tag here in Colorado and this will be her first season w a tag in hand. She has always joined me on a couple scouting trips and this year she packed in to "help" me hunt the deer ended up getting and is hooked! Good times ahead she decided it was time for her to hunt. Plans are for 15 ish days of scouting then hunting all 9 of muzzy. Going to try and find her a good one to hunt as she said she wants to get one bigger than the one we got together last year... Going to be a tall order for her - lol as my buck last year went 208" and 32' outside to the kicker.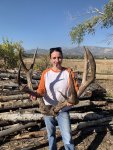 2019 was good to me! I hope to find a archery deer tag not too far from home but if I dont I have a friend that I will be helping on his first ever archery hunt so should be fun even if I cant hold a bow. Our plans are to take our 8 year old daughters on most of the scouting trips they are good friends and we will see how they do.
So who bow, muzzy, or rifle who will be hunting early season muleys this year?