Had a fun, but really short, hunt Saturday with my son. We set up 100 yards away from the roost tree about 45 minutes before legal shooting time. It was raining and breezy so nothing was calling yet. 10 minutes before legal time the rain stopped and they started gobbling from the trees right where they were supposed to be. 15 minutes and a few soft yelps later, we had toms beating up my decoys. My son saved the decoys and filled 2 of his three permits in one shot.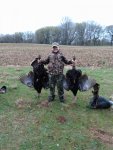 Deboning for grinding-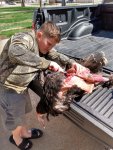 We will grind with 10% bacon and package tonight.
Last edited: