I just returned home from a longer than expected Wyoming lion hunt. The current lockdown has cancelled our annual snowmobile trip to Idaho, there's little snow to ride on here in MN, and I didn't draw a late season cow elk tag. So, I called my friend in WY and lined up a lion hunt, starting on Jan. 18th. 1,500 miles later I was starting a fire in the bunkhouse and prepping for the next morning. Clint and I headed out by first light with his hounds Nacho & Rheana. The veteran dog Diablo was being left behind as he is 9 years old and has been ailing lately. Unfortunately, Diablo died the next day, but he did a remarkable job training his niece and nephew to take his place.
I was able to combine two of my passions, hunting and snowmobiling. We drove several miles to a neighboring ranch, and headed up a two-track into the access to BLM lands. 32 miles, gave me a chance to practice my dismounts, cursing, clearing fogged glasses, etc. There hasn't been fresh snow for a couple weeks, so it was hard to discern fresh tracks. The dogs were released on a couple sets, but they were unable to follow them for long. We were back out by dark and planned for a very early start the next day. 4:30 am brought us to some backroads, and we traveled slowly looking for tracks until it was light with nothing to set the dogs on. Clint got a call from a young friend who had seen some fresh lion tracks while snowshoeing the day before, and we met him at the canyon trailhead at 8:00am. Jackson turned out to be an enthusiastic 19 year old with more energy than was good for me. Clint is 34, and I'm a 68 year old flatlander, so you could say that I was definitely the one "sucking the hind tit". If I had planned for this trip earlier, then I would have worked my cardio more in preparation, but at least I was still in decent enough shape that I wouldn't die on the mountain. We hiked in a half mile or so before releasing the dogs on the big track that Jackson had found. They were on the scent and barked their way up a very steep, rocky, mountain (I would guess that it topped out about 1,500' to 2K' above us.) Clint tracked the dogs on his GPS as we followed them along down below. We came to a side canyon and worked our way up to a spot where Clint had me wait while he and Jackson went up, up, up. It was 8 degrees and windy, so I had put on my down vest just before I got a call on the radio to head up. An hour or so later I was still 200 yards from the top, sucking wind, sliding back down as much as going up, climbing on a crumbling rockface with a 30' sheer drop below, glasses in a pocket because of fogging, …...perfect. Finally, I was only 40 yards below the dogs where that had a young lion treed. Clint told me that is was only a small one, that we wouldn't shoot, but before I got any higher it jumped from the tree. The dogs were leashed and the long slide down the mountain followed. It turned out that the dogs had started on a big tom track, but on top had come across fresher tracks of a female with two yearling kits. They had run themselves ragged while the lion family played tag team with them.
Well, that was the hard part, because what followed turned out to be easy in comparison. Jackson left us, and we then went to check out another spot. Clint's sister's husband had family ranch property that he wanted to check out because they have had some calf losses to lions the previous summer. He rode his sled back into the steep sage covered hills, returning an hour later with a good report of fresh tracks that went into a patch of trees and didn't come out. We checked back with Clint's sister to ensure that we had the OK to hunt the property, and found out that we were going to have a whole posse. Most of the family wanted to participate, and a short while later we headed out on 6 mountain sleds and 7 people. Thru another gate, over the hills and dales, up, up, up again, a couple miles back in, and finally on the tracks that Clint had found. He released the Kracken (dogs), and they were hot on the track though they were clearly still wiped out from the morning hunt. The dogs ran into the 20 acre patch of trees, and we all saw the dark colored lion run out the other side & over the next hill. Clint had to retrieve the dogs and get them started on the new track. After that, the rest of us rode around, some going into different ravines. As it ended up, the dogs chased the cat through the much bigger patch of woods and got it treed within 30 yards of the trail on the other side. Everyone was there except me, the only one with a tag or a gun. The cat was tired, we were tired, and the dogs were exhausted, so none were going anywhere. I finally caught up with the posse and Clint pointed out the cat 30' up a tree and giving us the look that only cats can give. Clint said it was a decent cat, but not huge, and that it was my call. My first thought was that I didn't want to climb any more mountains this trip, Clint had some other ranch obligations he had coming up and our hunt time was limited, there were only 4 tags left on the mortality limit, and then I heard the landowner say, "We lost eight calves last year, probably because of this cat, so somebody needs to shoot it." OK, I can do that.
The dogs were leashed and pulled away from the tree, while the posse retreated a safe distance uphill. I wanted to use the .357 Colt Python that I had bought 41 years ago and had carried for a number of years as a police officer. Clint held my .223 to use as a back-up if necessary. Not needed. BOOM, flop, slide downhill, dead. We checked the lion with the local game warden where he took all my license info and took a tooth sample for aging. With this lion, there were only two left on the limit in this area.
There's more to the story, but the final chapter was my truck blowing the transmission and having to spend 6 days in Rapid City, SD waiting to get a new transmission installed...$$$$$6K later I was back on the road. On the plus side, Cabela's was only a short walk from the motel and on the 3rd day they got an ammo shipment. They had a daily limit, but I was able to tap into it over the next 3 days. My supply of 9mm and 5.56/.223 is secure.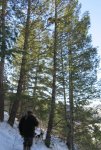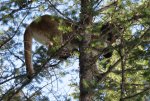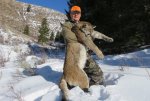 The pelt is at the taxi for a rug, and I have lion to add to the menu for the March Wild Game Feed.
Last edited: