Ok so the thread about the guys who only post once or twice asking for unit advice got me thinking that I started that way as well
. So to try to make amends here is my report from our hunt this past October. As many of you know my 12 yr old son and I went on our first big game out of state hunt this past October. Thank you to everyone who gave advice via pm or post. We drew unit 46-2 tags for antelope in Wyoming. We did get permission slips for the Simpson Ridge HMA and initially had 9 days to hunt.
Long story short our hunt was cut down to 4 actual hunt days due to the snow storm early in the hunt that delayed us from hunting the opening Saturday and Sunday and then we needed to be back home unexpectantly early. We hunted Monday, Tuesday, Wednesday and Thursday after the opener of 46-2. The hunt was a real progression; from being happy to see antelope the first day to the excitement of getting a chance for a shot the second day (the shot didn't present itself though) to a stalk and shot (clean miss) which brought on the lowest of lows on the third day to finally a stalk / shot with success and a huge feeling of accomplishment on the fourth morning (last day). With this being our first time hunting out west we certainly made some mistakes and since I had my 12 yr old son with me my primary focus was on him getting an antelope buck so I didn't even uncase my rifle. A huge thankyou to a local hunter Cliff and a friend of mine hunting a separate unit at the same time. Both were very instrumental in helping renew our confidence after the third day miss and in helping us find a different area to check out on the last day of hunt. The last morning was cool, as it turned out we had the area to ourselves found a nice buck, put two stalks on him and my son took a 208 yard shot. After the shot and short tracking job we soaked it all in on a sage cover ridge just my son and I. It really was a perfect morning, there no wind and hardly a sound. We took our time taking pics, boning the buck out and loading the meat into game bags purchased for just this occasion. We then we loaded them into our vests for the pack out. All the self imposed pressure was off and even though we had 3 other tags in our vests we didn't care; we were successful my son got his buck.
I am not sure if all of the units are like our hunt in 46-2 was but all in all 46-2 was just a too busy for me with way more hunters seen than antelope. That said we were / are new at this antelope thing and I am sure that many antelope veterans would have filled the tags if given the same hunt we had. We just needed a bit more time to get set up than most of the antelope that we had a chance at would give us. There were times we moved when we shouldn't have and should have moved when we didn't.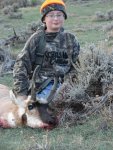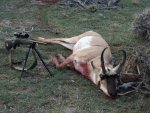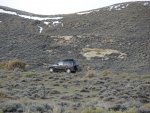 We still had a great time though and do not consider cut tags as a full measure of a hunt. We will be putting in for the draw again for next season it's just that we won't be putting in for 46-2 but trying our luck in drawing another unit.