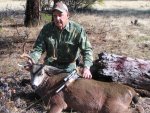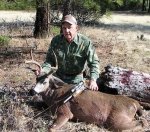 This is my 2016 Trinity County Blacktail. Not exactly what I was looking for antler wise, but a very large bodied creature, nevertheless. We spotted him sitting in the middle of an open prairie. The Rancher asked me if I thought he was trying to evade predators (mountain lions). This is a tactic commonly used by groups of Blacktail does that will bed in a circle with eyes looking in every direction for danger.
Bucks usually bed alone in heavy thickets. I thought this was just a very old deer way past his prime, taking advantage of the warm sun during his last days. We continued on our rounds and came back later to find the deer sitting in the very same spot. We agreed that he was probably nearing the end, and would probably not survive the winter. After some contemplation, I decided this was the right deer. At any rate, it would be a kinder death (if there is such a thing) for the old gentleman. Rather than being eaten alive by a mountain lion, or ripped to pieces by a pack of coyotes.
I found a good rest, and set up for the shot, which I had ranged at 166 yards. The 30/06 Encore delivered the 150 gr, Ballistic Tip on its mission of mercy, and the old deer died in his tracks. His body weight of 183 pounds was the heaviest Blacktail ever taken on the ranch. Even though he was a brute in body size, his headgear was only 2 x 3. Closer examination showed that he was in regression, due to old age. From the antler configuration we surmised that he was probably at least a 4 x 4 in his prime. He will be an honored guest at the Thanksgiving table.
Last edited: