Good day gents, been out and about hunting in Elko County chasing elk up this mountain and down that one. Came across this scene and am curious if any of you know what it represents, whether it be a tool to help to quarter an animal or something religious/spiritual. Any thoughts?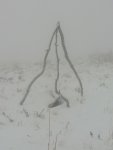 In case you can not decipher the picture, that is a cow gut pile with a tripod of sticks over the top of it. They used electrical tape at the top to keep them together.
Just seems really odd to me.