Eastmans' Staff / Moderator
Staff member
Hey all, I promised an update on a deal we are doing for Father's Day...drum roll please....
With a TagHub Elite Annual membership
we are including the Alaska Classic Bino Harness from Alaska Guide Creations. So pretty much two for the price of one...and its an even better deal when you use the 20% off coupon code at checkout forum20.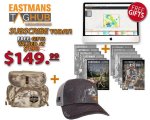 I'm sure many of you here are pretty familiar with what AGC has to offer, if not here is a review/overview I put together of the Alaska Classic comparing it to the Alaska Classic with the larger pocket on bottom.
Big thanks to all of you who have jumped on board and as always I want your feedback on the product!