Cleaned my pack out tonight and went through my emergency kit and don't really see anything I'm missing, but thought it would be a good topic.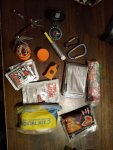 Picture is my kit, not pictured is 20' of rope and an extra set of batteries for my headlamp that is also in there.
So what's everyone else is carrying with them?