Found myself a dang nice bear a couple of weeks back.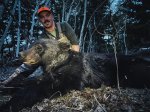 Now that I've got the skull all cleaned up, I'm figuring based on my rough estimation he could make the Book. I was curious if anyone on here knows some B&C measuring tricks to make sure I'm getting the right readings?
I know guys like to run tape on buck antlers, for example, to get the right lines to measure, but this is just width and length so I figure it shouldn't be as hard as I'm making it. haha.